Participating companies
Buutti Oy
Description
Buutti Oy offers IT consulting, software development services, and IT training. Embedded systems SW and web development are the core of our expertise. Currently, we employ over 100 software developers, trainers, and other IT professionals.
At Buutti, you'll get to be a part of a team of passionate tech experts. In short, all of our employees are great at what they do. Our recruitment process emphasizes true technical know-how and passion for the industry. For us, programming is more than just a job: our developers enjoy tech stuff in their free time as well. In our team, we have retro-style game developers, Arduino hobbyists, 3D-modeling enthusiasts, and many sorts of musicians. Your coworkers can and will offer you help at work and in your free time.
Join us!
Buutti is growing, and new interesting projects and opportunities are opening up constantly. Our clients are top names in fields like healthcare, finance, and ICT. We offer jobs mostly in Oulu, Helsinki, and Tampere, but working remotely is also possible. In fact, one of our developers is working all the way from Inari.
The requirements regarding know-how, competence, and technologies vary from project to project, as does the amount of required experience. At Buutti, your opinions will be heard and you have a choice about the projects you will be working on. Our top-notch sales team specializes in finding just the right project for you using their vast network of contacts.
You can find jobs for Junior developers at https://codematch.buutti.com/en/careers/ and jobs for more experienced developers at https://buutticonsulting.com/en/careers/.
Spot SB11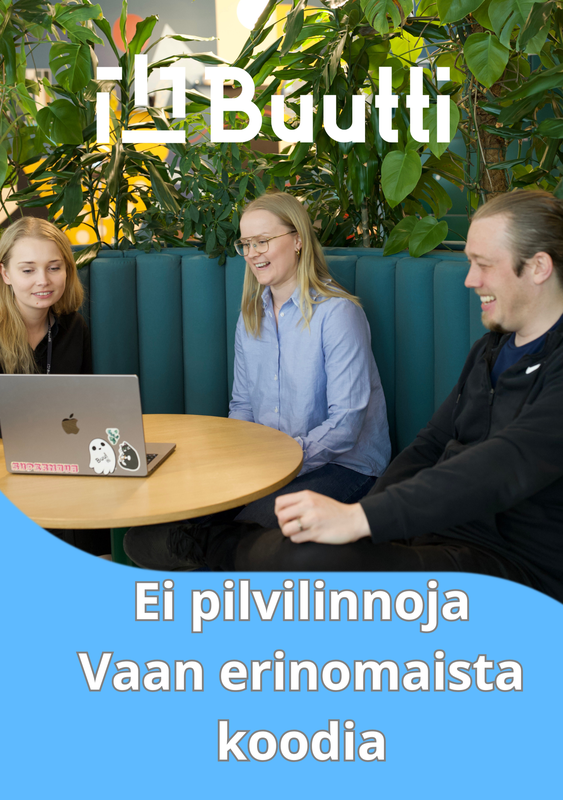 Click to enlarge the picture