Participating companies
Scandit
At Scandit we enable businesses and consumers to interact with everyday objects by blending the physical and digital worlds using computer vision. Our main product, an SDK, lets our customers build Internet of Things applications that use smartphone cameras to interact with the real world. We use computer vision and machine learning to create augmented reality experiences for professional (i.e. business) use.
Engineering is our DNA: We are three co-founders, all with PhDs in Computer Science, and we have GV (Google Ventures), Salesforce Ventures and NGP (Nokia Growth Partners) among our investors.
At the moment we have altogether 350 people across the world from Tokyo to Tampere to Boston! We opened our Tampere office in 2019, because Tampere has a rich history around R&D in cameras and mobile image processing. Following our $80 million funding round we are looking to hire more talented colleagues in Tampere. Climb aboard!
Open jobs
As an international company we operate in English :)
We are offering internships for the following fields:
Machine Learning Engineer

Computer Vision Engineer

C++ Engineer

QA Tester

Full-Stack Engineer

Android Engineer

iOS Engineer
Come meet us at our stand to learn more!
Additional information
You can find more information and our open positions at https://www.scandit.com/careers/
You can also reach out directly to our tech recruiter in Tampere at emilia@scandit.com
Spot SB12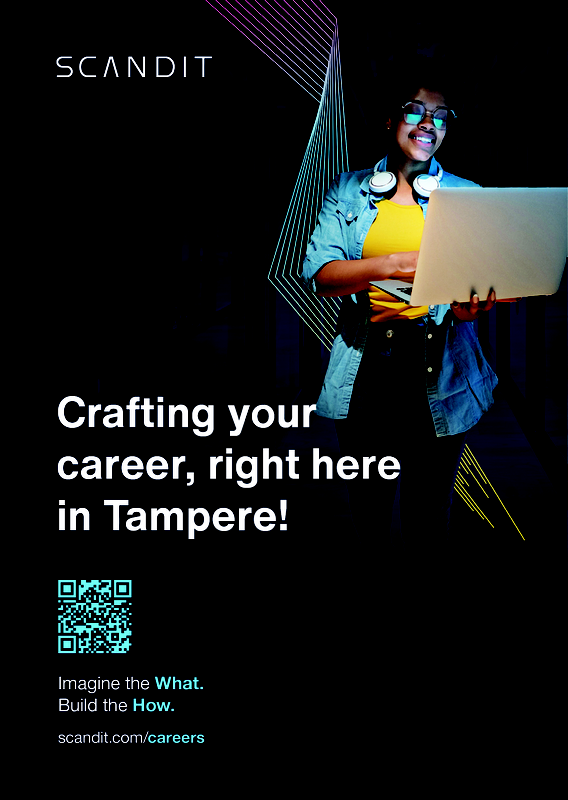 Click to enlarge the picture